MechaRobo Science Comic Dialogue "Batteries"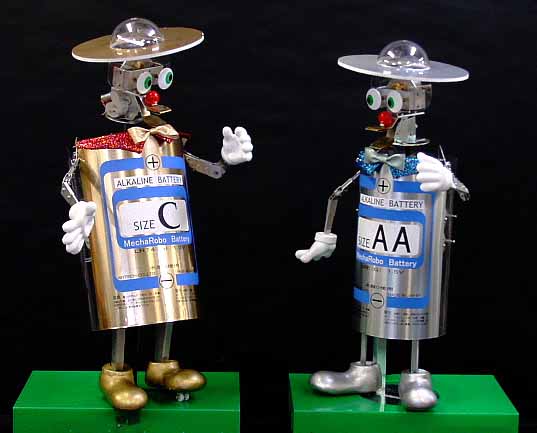 Topic "What if we install a battery backwards."
Battery brothers wonder what if they install a battery backwards and decide to undertake an experiment. After argument, poor little brother AA turns out to be a guinea pig. Now...what is going to happen next.
A back of the body is clear so that you can see machine and mechanism which synchronizes with dialogues.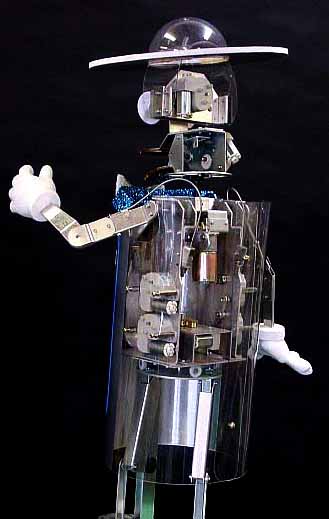 <Specification and Movements>
Big brother : C
Little brother : AA
Height
90cm
Height
85cm
Movement
13parts
Movement
13parts
Eyes
turn
Eyes
turn
Mouth
open and close
Mouth
open and close
Neck
back and forth
Neck
back and forth
Neck
turn
Neck
turn
Right shoulder
ups and downs
Right shoulder
ups and downs
Right elbow
ups and downs
Right elbow
ups and downs
Left shoulder
ups and downs
Left shoulder
ups and downs
Left elbow
ups and downs
Left elbow
ups and downs
Right leg
ups and downs
Right leg
ups and downs
Left leg
ups and downs
Left leg
ups and downs
Waist
bend
Hip
turns
A body rotates 200 degree.
A body rotates 200 degree.
A body moves from side to side.
A body moves from side to side.
(1.2m - 2.5m)
(1.2m - 2.5m)