What is MechaRobo?
The mechanism and concept of MechaRobo is based on Karakuri doll It is our experience of collaborative work with Karakuri doll master, Yorozuya Bunzo that went a long way to develop MechaRobo. (Click here to see moving image of our performance with Yorozuya Bunzo - "Onono-Tofu" and "Syakkyou") MechaRobo performs in accord with audio output. The mechanical appearance, one of MechaRobo's strong personalities, enables it to have flexible color just by changing costume and script, which also allows audience to fill their imagination. Thanks to this flexibility, MechaRobo can meet a wide variety of customers' demands. It can express various motions only using simple mechanism. It is a wonderful entertainer while it is an effective communicator who makes lasting impressions and promotes company and product awareness at a sales floor or a booth in the exhibition hall. Its representational power and acting talent make great contribution to marquee.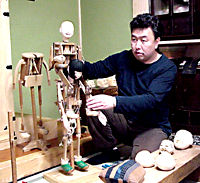 Karakuri Doll was Japanese antique mechanized doll developed as a popular entertainment in the eighteenth century and is still famous and popular. Mechanisms fitted inside make dolls move by themselves. Japan's equivalent of automata. It can be roughly divided into two types: puppets mounted on floats and those used in rooms.

Appearance
MechaRobo is designed to attract the gaze of people. Its mechanism and performance are eye-catching. It is possible to attach props and costume to MechaRobo. A bit of garnish and motion can change its color dramatically and the mechanical appearance allows the audience to fill their imagination.

With custom-made molding and costume

How can you make good use of MechaRobo?
At Storefronts or Exhibition
As being a wonderful entertainer, MechaRobo attracts pedestrian who just passes in front of your store or booth at the exhibition. Moreover, it is an effective communicator who promotes your product. If you make a set of several MechaRobos, its presence and representational power will be more than double due to its funny appealing image.
At Museums or Science Museums
As an exhibit under the theme of "Robot", "Structure of a machine" or "Science", MechaRobo is a choice. In Japan, a couple of museums used. MechaRobo or a set of five for a part of their special exhibition and MechaRobo was very popular. Also, as a permanent exhibit, you could make MechaRobo guide a museum at the entrance or explain a specific exhibit.
We also have "move a flag up and down" Game MechaRobo. In this game, you stand in front of MechaRobo with red and white flags in your hands and follow its directions.

Last but not least, depending on your idea, MechaRobo can be any kind of performer.